4 Recipes for 6-Month-Old Babies
One of the pillars of a healthy diet is variety. Therefore, we're going to teach you how to prepare different simple recipes for 6-month-old babies.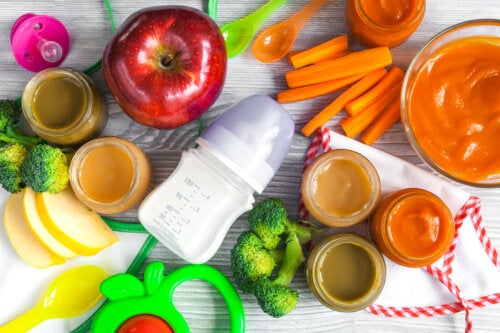 From 6 months onwards, complementary feeding can be introduced. It's a key moment in the child's life, as it consists of a great step forward. This doesn't mean that you have to stop offering breast milk, as this food is the most suitable for babies until their first year of life. However, we're going to teach you the best recipes for 6-month-old babies.
What recipes can be prepared for babies that are 6 months old?
Below, we'll show you which are the best recipes for 6-month-old babies. All of them stand out for the predominance of fresh ingredients and for presenting a high nutritional density.
It's worth clarifying that you need to avoid the introduction of several foods until the child's first birthday in order not to compromise the health of the baby.
1. Oatmeal apple pancakes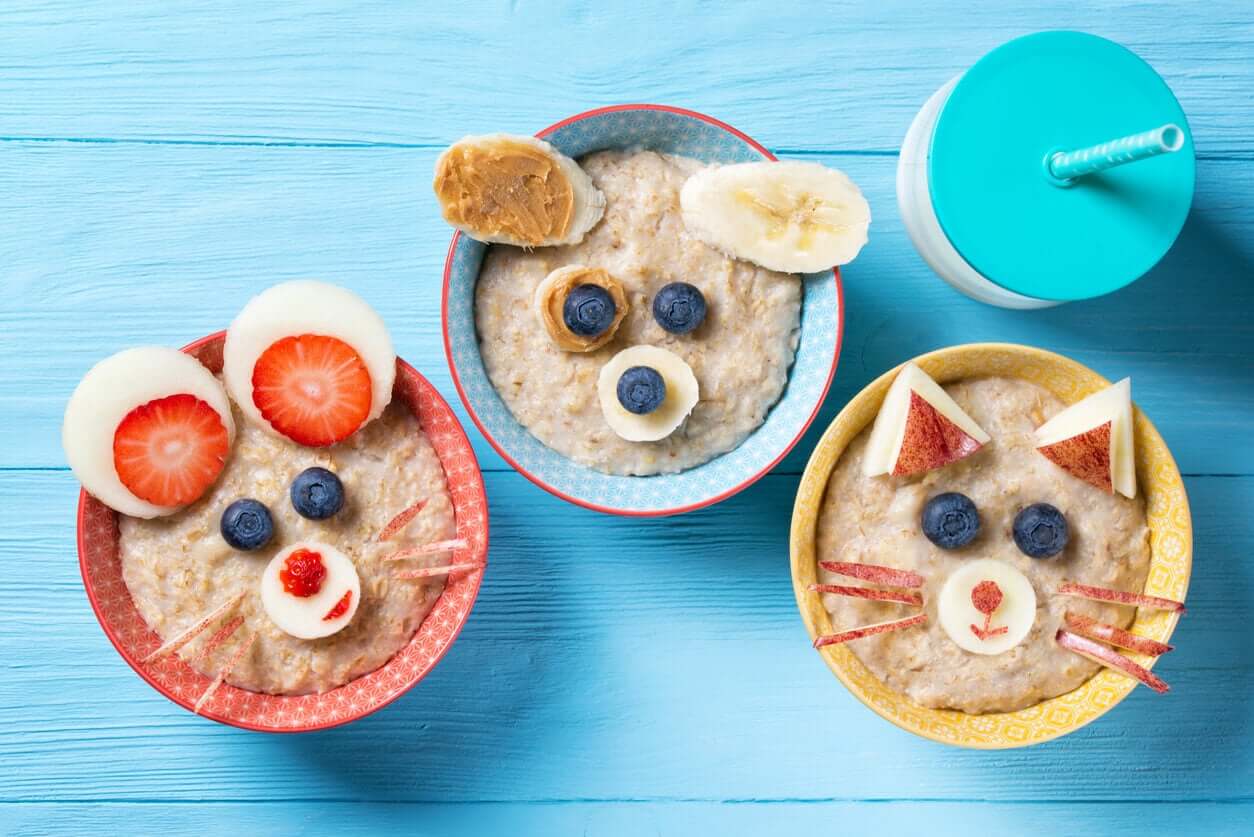 Oatmeal is one of the best cereals to include in a child's diet, as it has a large amount of soluble fiber inside. This element is essential to nourish the microbiota, as evidenced by research published in The Journal of Nutritional Biochemistry.
To make the pancakes, you'll need the following ingredients:
2 cups of plant-based milk
1/2 cup of oatmeal
1 egg
Half an apple
A pinch of cinnamon
These pancakes are very simple to prepare. You just have to introduce all these ingredients in the pitcher of a blender and crush them until you obtain a thick mixture.
Then, place a portion of this preparation in a hot pan greased with olive oil and cook it well on both sides.
2. Mashed potato and carrot
It's important to ensure a supply of quality carbohydrates and other essential micronutrients in the diet of the 6-month-old baby. For this reason, the preparation of vegetable purees is essential. In addition, these preparations are usually very well accepted by little ones and hardly generate rejection.
It's important to note that preparing a puree is really simple and fast. You just have to peel two potatoes and a carrot and then cut them into small cubes. Cook everything with water in a saucepan for 3 minutes and then blend with a hand mixer. Add warm water until you reach the desired consistency.
3. Chicken, pea, and green bean puree
During the first stages of life, protein needs are increased, your little one is growing by leaps and bounds. For this reason, it's important to satisfy these requirements with nutrients of high biological value, such as those that come from foods of animal origin.
In order to prepare a puree with a high protein content, you have to chop a chicken breast and then brown it. At the same time, wash 1 cup of peas and some green beans. Add the vegetables to the pot where the meat is located and cover everything with water, so that it cooks for 30 minutes. Then, blend everything with a hand mixer and that's it!
4. Strawberry smoothie
Including fruits in the recipes for 6-month-old babies is essential in order to ensure a continuous supply of antioxidant substances. These neutralize the formation of free radicals and prevent the development of chronic and complex illnesses.
To prepare an excellent strawberry smoothie, you just have to introduce 10 units together with 1 cup of plant-based milk or formula milk in a container suitable for a mixer. Blend everything to a light consistency and then offer it to your baby.
Prepare these delicious recipes for 6-month-old babies
As you've seen, it's really easy to prepare recipes suitable for 6-month-old babies. It's important to offer your child different preparations so that they get used to consuming different foods. This will reduce the number of food rejections in the future.
At the same time, don't forget that breast milk is the most fundamental food during the first year of life. Thanks to this, allergies can be prevented and the risk of developing chronic and complex illnesses in the medium term can be reduced.
And remember, if you have doubts about the foods that your baby may or may not consume, consult with your family pediatrician.