6 Important Baby Feeding Items to Have at Home
Feeding our baby is one of our most important tasks as parents and we need to learn how to do it in the most healthy and hygienic way.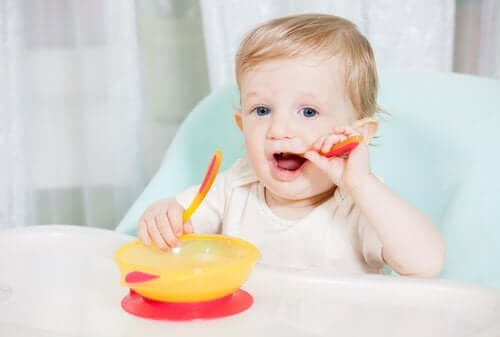 Babies' special needs and characteristics have led to the design of specific products to facilitate the task of feeding our little ones. Read on and find out about these important baby feeding items.
Many different products have been manufactured in response to the obvious difficulties that young babies have of ingesting liquid foods such as milk or water in the way that we adults do. They're created to be as functional as the equivalent adult items would be.
Baby bottles, bibs, breast pumps, cutlery, plates, baby glasses and even baby seats will become your baby's most important everyday items. For that reason, choosing the best models will be an important choice for parents.
Baby feeding items and utensils
There's no doubt that feeding your baby is one of the most important tasks you'll have in his or her first few months of life. This aspect doesn't only deal with where or how you store the food. It also involves the hygiene of the implements and your baby's oral health.
Although there are several specialized products on the market, we want to introduce you to the most indispensable ones. We'll also be emphasizing the dangers of neglecting proper cleaning.
1. Baby bottles are one of the most important baby feeding items
We'll begin with the most indispensable item when feeding your baby: the baby bottle. Your baby can use it to ingest milk, water and juices, depending on his age and needs.
Regarding bottles, the teat is the most important part. It will help suction, reduce gases, and reduce the risk of the proliferation of bacteria. Among the materials used in their manufacture are latex, silicone, and rubber.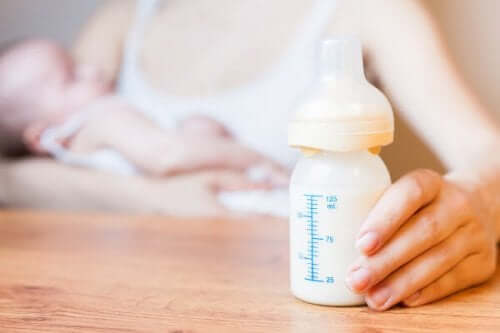 Naturally, the hygiene of the bottle and all the baby's utensils is essential. It'll help to keep his immune system in good working order. That's why you should wash it correctly with clean water, soap, always brushing it well. You should also make sure you dry it correctly. At the same time, you must also ensure you have a good hand-washing routine.
2. Breast pumps
The breast pump is one of the most essential utensils for feeding your baby. It allows you to extract and then store the milk that the child needs. This will ensure that the mother doesn't have to replace breastfeeding with formula milk.
There are several ideal times for using this instrument. The best time is usually one hour after the baby eats. Or, alternatively, if you already know the amount of milk the child consumes, you can do it simultaneously while the child is feeding on the other breast.
3. Bibs are also essential baby feeding items
Bibs prevent the remains of food, spills or vomiting from soiling the baby's clothes by keeping them clean and dry. We recommend having several of them at hand, as they usually get very dirty each time they feed. It's best to choose ones made of hypoallergenic fabrics such as cotton. You should only use plastics or mixed fabrics from six months of age.
As far as washing them is concerned, we recommend using detergents for children. Avoid softeners and wash them separately from other baby clothes.
4. Dishes and cutlery
These all comply with the same hygienic principle of tableware for adults, but they're made especially taking into account the baby's anatomical characteristic. They should be easily washable and made of lightweight materials so that they can't break or cause damage to children.
With regard to washing, we recommend using a small amount of organic soap, and drying them very well with a clean towel before storing them.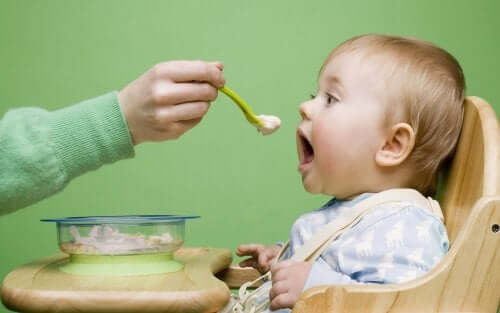 5. Baby drinking cups
Babies' drinking cups are designed so that young children can drink without spilling them on their clothes. They have precise openings to help them drink slowly, and this will help to avoid choking. You should apply the same cleaning principles as for washing dishes and cutlery.
6. Baby feeding and the highchair
The baby's high chair helps to position your baby comfortably and ensure that he can eat his food correctly and safely. They come with a safety belt for the child and a good-sized tray table at an appropriate distance for his age.
The baby high chair will be used at the dining table, so that your baby can share eating times with the family and learn about manners and routines that must be adopted when eating.
To conclude, we want to emphasize the importance of hygiene in all the utensils that your baby will use.