Baby-Led Weaning Recipes
Baby-led weaning is the quintessential method for introducing solid foods to babies. Thus, we encourage you to try the baby-led weaning recipes we'll share in this article.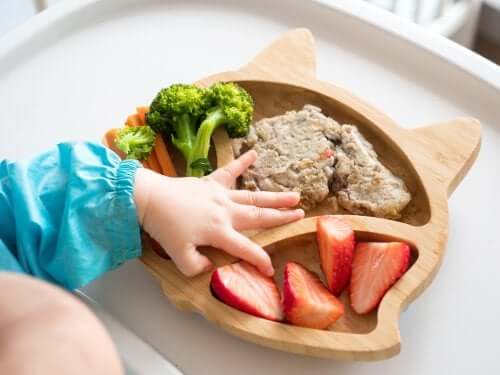 After the first six months of exclusively breastfeeding your baby, you can start adding complementary foods to their diet. Traditionally, mashes were the quintessential method. However, since 2003, more and more families are opting for baby-led weaning. Below, you'll discover what it consists of, as well as some varied baby-led weaning recipes.
Baby-led weaning: Another way of introducing foods
This method consists of introducing foods in small pieces to babies so they can grab them with their hands. Although it's advisable to start right when babies turn six months old, you first have to assess if babies can:
Keep their head up.
Coordinate their hands, eyes, and mouth to see, grab, and eat foods.
Swallow solid foods without spitting them out.
This method is advantageous as your baby will eat the same foods as the rest of the family, avoiding products designed exclusively for babies that usually contain added sugars.
Also, it makes babies' diets healthy, varied, and complete, nutrient-wise. In addition, it allows babies to regulate their intake, stopping when they feel full and eating at their own pace.
Can babies eat any food?
In principle, yes, except those that are discouraged due to the risk of choking. These are usually foods that babies can't grab well with their hands until they're nine months old due to their shape, since small babies don't have the ability to grip things with their fingers.
But before knowing which foods to avoid, it's important to follow safety rules, such as:
An adult must always be present to watch the baby and act as quickly as possible if there are any warning signs.
Avoid any distractions, such as television and games.
The baby must be well seated, not leaning nor lying down.
No one can put food in the baby's mouth; they have to do it themselves.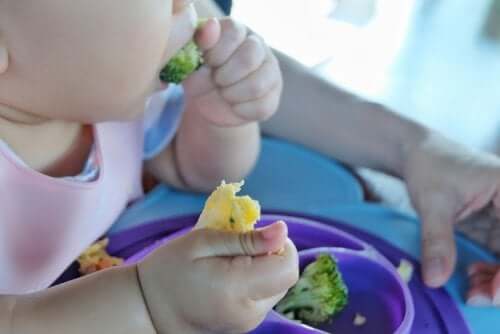 Here are the foods you shouldn't offer babies at this stage:
Whole nuts, such as walnuts, almonds, hazelnuts, pistachios, and Brazil nuts, seeds, and peanuts before the age of three. Meanwhile, your baby can eat them ground or crushed, such as in spreads (you can spread them on bread or use them as a recipe ingredient).
No candies and treats until children turn five years old, due to the fact that they're eaten in one bite and babies' swallowing and chewing skills are underdeveloped, which increases the risk of aspiration.
Round whole foods, such as beans, peas, cherries, berries, olives, and grapes. Moreover, some of them have bones that must be previously removed, and then they must be cut into small pieces.
Sausages and Frankfurters, since their size is similar to babies' airways.
Hard foods, such as raw carrots and apples, or popcorn.
Melba toast or crackers and breadsticks.
Raw vegetables, such as peppers, onion, and celery, among others.
Baby-led weaning recipes
You can implement baby-led weaning with the nutrient-rich healthy recipes we share below.
Vegetable recipes
Ingredients
Zucchini
Rosemary
Pepper
Extra virgin olive oil
Preparation
First, wash and dice the zucchini.
Place them on a baking dish and then add some oil and spices on top.
Bake at 350°F for 40-45 minutes until they're tender.
Pumpkin and olive paste slices
Ingredients
Pumpkin
250 g of black olives
40 ml of olive oil
1 garlic clove
Parsley
Preparation
Peel the pumpkin and remove the seeds.
Cut them into thin slices and cook on both sides in a frying pan.
Meanwhile, crush the black olives with the oil and the rest of the ingredients.
Once you're done, spread the olive paste on the pumpkin slices.
Legume recipes
Legumes are the main source of vegetable proteins, especially in vegetarian and vegan children. Although they're also a source of iron, their absorption is lower due to the phytates they contain.
However, you can inactivate them and improve the degree of absorption by soaking, cooking, or germinating them. In addition, you should accompany them with peppers or citrus fruits (such as oranges, tangerines, grapefruit, pineapple, and kiwi), as they're rich in vitamin C.
Ingredients
200 g of chickpeas or any other cooked legume
150 g of carrot
1 tablespoon of tahini (sesame cream)
Oil
Cumin (optional)
Salt
Peppers
Preparation
Crush all the ingredients and add the oil little by little until you get a creamy texture.
Ingredients
300 g of peas
600 ml of vegetable broth
1 plain yogurt
Mint leaves (to taste)
Oil
Preparation
Cook the peas in a pot.
Blend them with the remaining ingredients.
You can garnish the preparation with a drizzle of extra virgin olive oil and a few pieces of ham.
A fish recipe
Hake and sweet potato meatballs
Ingredients
200 g of hake
1 medium sweet potato
Extra virgin olive oil
Preparation
First of all, bake the sweet potatoes at 350°F for 35-40 minutes.
Check that they're well cooked by piercing them with a knife. Set aside.
Then, boil the hake for five minutes.
Place the sweet potatoes in a bowl and crush them with a fork.
Remove the fish bones and skin and then mix it with the sweet potatoes until well-integrated. Add a little oil.
Make balls with the dough.
Brown them in a frying pan with oil so they don't stick.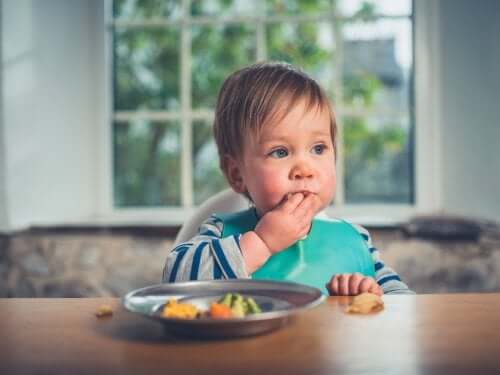 Baby-led weaning fruit and nut recipes
Peanut and banana smoothie
Ingredients
1 tablespoon of peanut butter
Ground cinnamon
1 to 2 medium bananas
1 cup of milk or vegetable drink, except rice
Preparation
Blend all the ingredients together except the cinnamon.
Give the finishing touch by garnishing with cinnamon.
To give your baby enough energy to continue playing.
Ingredients
6 dates
1 tablespoon of peanut or cashew butter
100 g of chopped walnuts
Unsweetened cocoa powder
Liquid coconut oil (optional).
Preparation
First of all, soak the dates.
Then, de-bone them.
Add all the ingredients to a bowl and crush them. If it's hard for you to do, add a little coconut oil to the mixture.
Finally, make balls with the dough and then coat them with cocoa.
As you've seen, baby-led weaning is totally safe and only requires a little imagination when it comes to presenting foods to your baby. Not only will your baby learn to eat healthily but also develop motor skills and discover the importance of family meals.