The Best Breastfeeding Positions
Breastfeeding a baby in an improper position can cause disorders and discomfort. In this article, discover the best breastfeeding positions.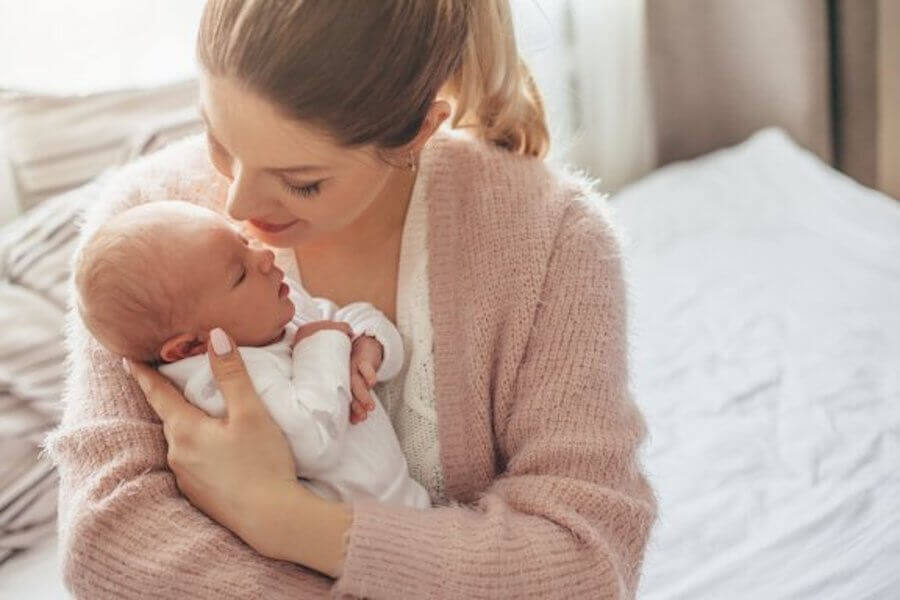 Breastfeeding creates a strong, special bond, as it's a very intimate moment that mother and baby share. To make it much more comfortable, read this article to discover the best breastfeeding positions.
Although it's the most significant act of love of a mother toward her baby, it can lead to negative consequences if it isn't done properly. Breastfeeding in an uncomfortable position can lead to severe back pain, neck pain, and shoulder pain.
For these and many more reasons, it's necessary to know the best breastfeeding positions. This way, you'll ensure that the months you'll spend breastfeeding your baby are as pleasant as possible.
Why is it important to choose good breastfeeding positions?
To begin, it's necessary to clarify the terminology that we'll use below. "Position" refers to the way the mother will hold the baby while breastfeeding.
It isn't selfish to think about the mother's welfare. It should be noted that women's bodies undergo many physical changes during pregnancy, such as weight gain and abdomen volume. These, among others, produce muscle tension.
Pressure in the lower back, shoulders, and neck, as well as discomfort in the hands, are consequences of this transition. And then there's the fact that the mother has to carry the baby in her arms, something that mothers tend to do protectively and causes the body to lean forward, leading to tension and muscle pain.
When it comes to the baby, a good position will ensure not only safety, but also a greater flow of milk. This will provide a sense of wellbeing and comfort that leads to more hours of rest and growth.
To adopt a good breastfeeding position, you should be well supported with your back straight. You can lie in bed or sit on a chair, sofa, or at a location of your choice. The important thing is to properly support your spine.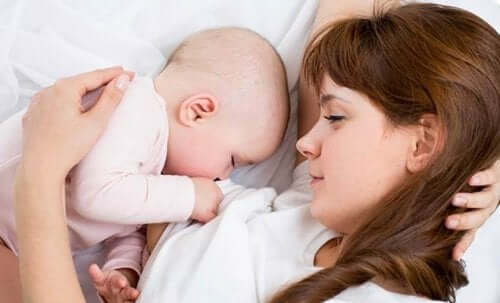 The best breastfeeding positions
Below, we'll share several breastfeeding positions with you. The one you choose will depend on the circumstances and the results they yield. The right grip to the breast, suction, and the mother's comfort are paramount when it comes to breastfeeding.
Biological position
You must be reclined or leaning back and place the baby face down on you. Your baby's head should be positioned between your bare breasts so that your baby's body is in complete contact with yours. You don't necessarily have to hold him, only watch him, as he'll stay in place due to gravity.
Football hold
In this position, the baby's body goes under your armpit and his feet pointing towards the back. You must firmly hold your baby's head and place it in front of your chest. It's ideal when two babies need to be breastfed at the same time.
Breastfeeding in an uncomfortable position can lead to severe back pain, neck pain, and shoulder pain.
Straddling position
In this case, the baby must be straddling one of your thighs, facing your breast. You should hold your baby's head firmly with one hand and your breast with the other.
Parallel position
The mother and the baby's position are similar. This way, they both can rest, as they're both lying down facing each other.
Signs that you chose a good breastfeeding position
The baby's head and body are in a straight line.
The baby is turned towards your chest.
You keep your baby's body near you.
If you have a newborn, you hug him instead of holding him by the neck or shoulders.
Signs of good attachment
The baby's nose and chin are near your nipple.
The baby's mouth is wide open.
You can see more of the areola above the baby's mouth than below it.
Breastfeeding is a unique time that you'll share with your baby. Although you may feel a little frustrated at first, especially if you don't have enough experience, it's really worth it.
Just put the best breastfeeding positions into practice and choose the most comfortable one for both you and your baby.