Breastfeeding and Tattoos: Everything You Need to Know
In this article, we'll tell you everything you need to know about breastfeeding and tattoos. Don't miss this important information!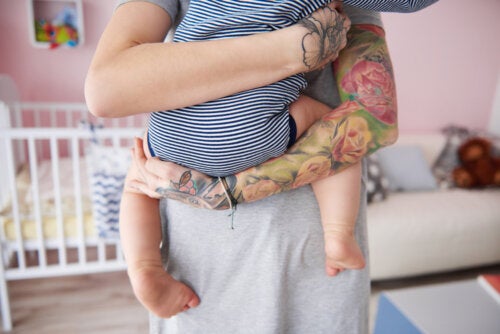 Breastfeeding raises many questions when it comes to taking certain medications, consuming alcohol, smoking, or getting a tattoo. Although there aren't many studies or endorsements from pediatric associations regarding this last point, today we're going to tell you everything you need to know about breastfeeding and tattoos.
The decision to get a tattoo
Tattoos are a trend that's always in force in any part of the world. In fact, people decide to get tattoos for many reasons:
As a form of expression
For artistic or spiritual purposes
In honor of someone they've lost
To sanctify a special relationship
Many new parents even get tattoos with the names or faces of their children or entire families. And the reality is that there's not much research on the convenience and safety of getting tattooed while breastfeeding.
Experts are divided. Some recommend waiting until the end of breastfeeding, while others don't consider tattooing to be a health problem. However, they all agree on the importance of taking the necessary hygienic precautions and consulting a doctor beforehand.
Breastfeeding and tattoos: Safety
Whether breastfeeding or not, it's always advisable to take the necessary hygiene precautions to prevent infections. To achieve this, you need to make sure that the establishment respects all aseptic requirements. It should also have sterile and disposable materials to avoid possible contagion.
It's best to prioritize the following care and hygiene practices:
The tattooist must wear latex gloves during the entire process.
The place must be clean and the piercing and tattooing areas must be separated.
The establishment must have an autoclave, which is a machine that sterilizes equipment and reusable instruments.
The needles must be disposable, their packages must be individually sealed and opened in front of each person before starting.
Tattoo pigments must remain in a sterile container.
Although tattoo ink remains on the skin surface (doesn't pass into the bloodstream), some may contain heavy metals, such as mercury, lead, and arsenic.
Because it remains on the skin surface, the ink shouldn't pass into the woman's blood or her milk. If it does, neither the use of lidocaine sprays (as a local anesthetic) nor the consumption of oral analgesics, such as ibuprofen or paracetamol, is contraindicated.
You may be interested in: Ibuprofen and Pregnancy: Risks and Alternatives
Another important consideration is to avoid tattooing the areola or nipple area, as the baby could ingest some toxic components of the dye accidentally.
Tattoo removal during breastfeeding
In the case of wanting to permanently remove a tattoo with laser treatment, the situation is different. The laser uses a technology that disperses the tattoo pigments and in this case, they could pass into the mother's blood and milk.
Read also: 9 Ideas for Getting a Tattoo with Your Child's Name
Can a tattoo get infected?
The hygiene of tattoo establishments isn't a universal aspect. In fact, some places don't respect the minimum safety standards regarding the sterility of equipment and instruments.
Consequently, the risk of contracting venereal infections such as hepatitis B, HIV, and hepatitis C increases, as described by the American Pregnancy Association.
Once the tattoo is done, no disinfection is required, but a daily washing of the skin with soap and water is. In addition, it's important to moisturize the tattooed area with creams with a high vitamin A content several times a day for at least three weeks.
Characteristics of an infected tattoo
Contracting infections is very risky for breastfeeding women. On the one hand, they can transmit germs to their children, and on the other hand, they may have problems in maintaining lactation and receiving certain medications. Therefore, it's a good idea to consult a doctor promptly at the slightest suspicion of illness.
Some of the clinical manifestations suggestive of infection are fever, tiredness, and chills. Also, foul-smelling discharge in the area of the tattoo, pus-filled blisters, and joint pain.
Therefore, it's very important to follow the tattoo artist's instructions, as germs could colonize the wound as it heals. Although in most cases, these infections are easily treated, there's the possibility of contracting more severe conditions, such as those caused by staphylococcus.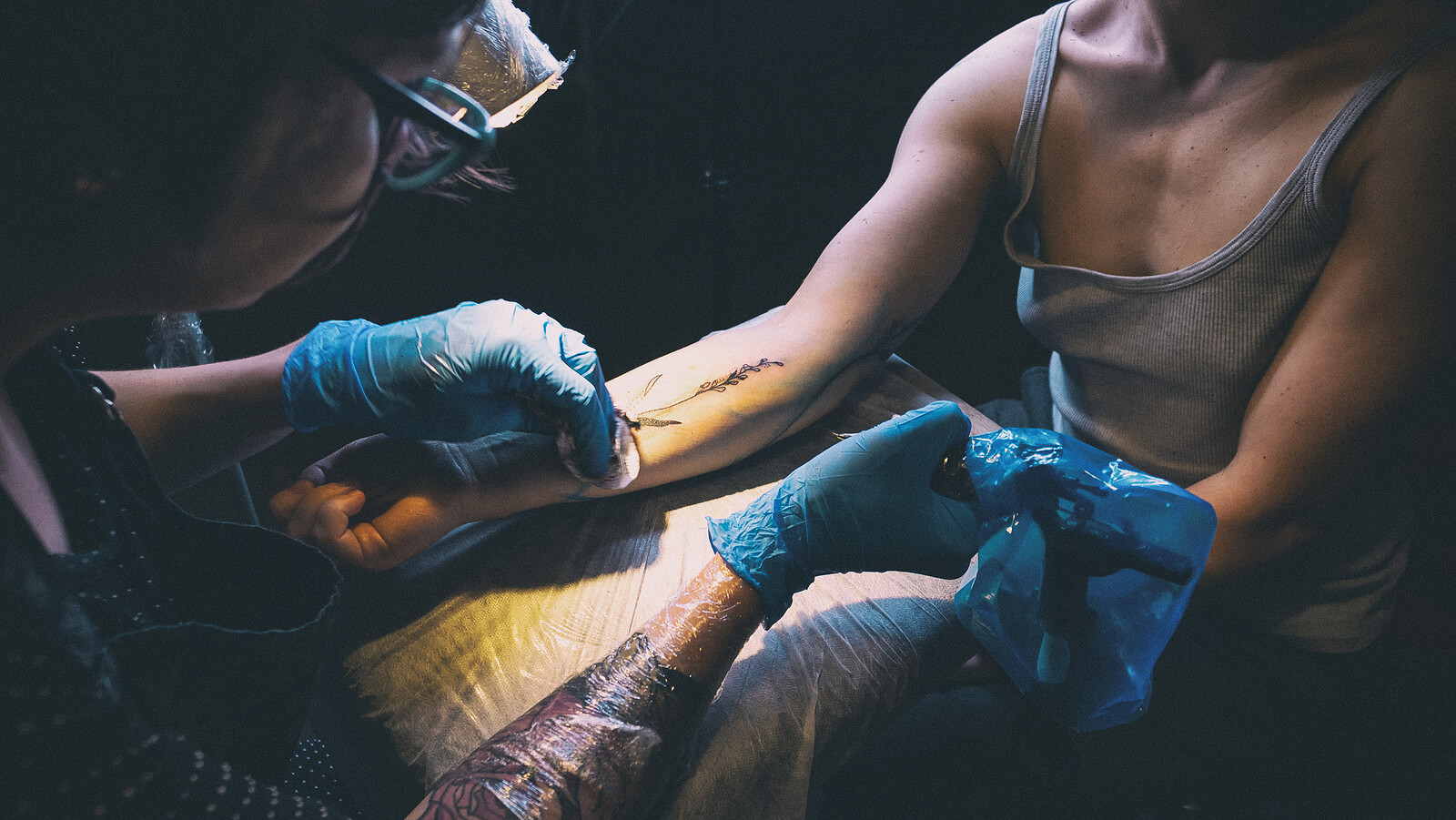 If you choose to get a tattoo, make sure that the tattoo artist and the establishment comply with asepsis requirements. Also, make sure that the material is disposable and opened only in your presence.
Breastfeeding and tattoos: The decision can wait
In conclusion, if you don't feel safe or comfortable getting a tattoo while breastfeeding, opt out. Indeed, it's better to be safe than sorry and not run the risk of contracting complex diseases such as hepatitis B, C, and HIV.
However, if you do want to get tattoos while breastfeeding, make sure you take all the necessary steps to prevent these infections, just as you would at any other time.