Plastic or Glass Baby Bottles: What to Choose?
When choosing between plastic or glass baby bottles, there are certain characteristics that you should consider. Find out here.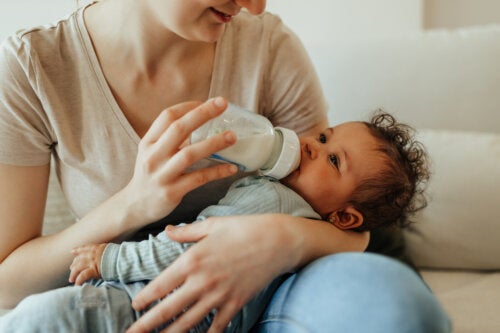 More and more parents are wondering if it's better to feed their little ones with plastic or glass baby bottles. The reason behind their doubts has to do with the fact that the children's market offers countless options to choose from and this can confuse first-timers.
Today these utensils aren't used only when parents choose to feed their baby with formula. When breastfeeding is carried out, mothers may need to resort to bottles in order to return to the workforce or in the face of difficulties in the mouth-nipple coupling.
Therefore, no matter what type of milk is being used, the purchase of a bottle may be necessary. And knowing the options better will allow parents to make better decisions about feeding their little one.
Baby bottle characteristics
Before opting for a plastic or glass bottle, you should know the characteristics that differentiate them. Among their distinctive qualities, we highlight the following:
Weight: Plastic bottles are lighter and easier to handle. On the other hand, those made of glass are much heavier.
Resistance: A glass bottle resists scratches and heat sources. On the other hand, plastic can suffer tears where germs accumulate and release toxins when heated.
Color: Plastic and glass bottles are characterized by being transparent, although the former tend to have a more opaque hue. It's common for plastic to darken over time and stain with some foods.
Smell: Plastic can absorb odors while glass cannot.
Breaks: Plastic bottles can be considered unbreakable. However, glass containers are quite fragile and if they fall, they'll most likely break. This increases the risk of cuts and injuries.
Wear: Plastic deteriorates with use, especially when subjected to heat sources such as sterilization. Glass, on the other hand, doesn't wear out or change with temperatures.
Maintenance: Both plastic and glass bottles may require frequent replacement. Plastic ones need to be replaced after a while due to deterioration from daily use. Those made of glass tend to break more frequently by accident.
Environmental impact: Glass is considered a much more environmentally friendly material than plastic.
Size: Both plastic and glass bottles come in different sizes. From small bottles of 2 to 4 ounces for the first weeks, to others of 5 to 10 ounces for when the child grows.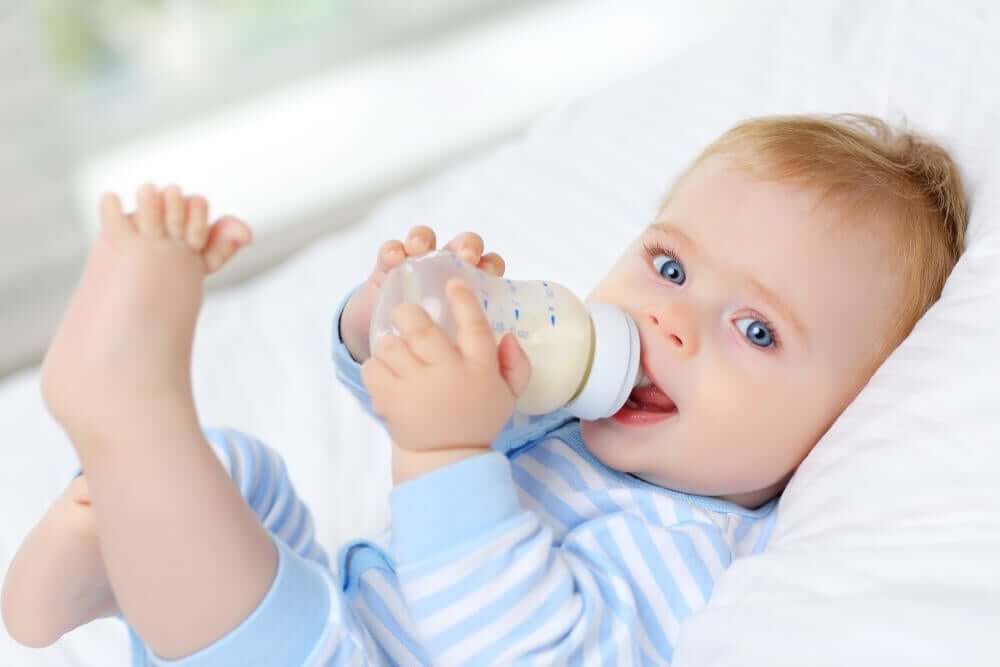 The differences between plastic and glass baby bottles
As you've seen, there are notable differences between a plastic and a glass bottle. The choice of one or the other will be based on the needs of your child, their age, and your own preferences.
Next, we'll mention the remarkable characteristics of each of these materials.
Plastic baby bottles
This material is characterized by being light, transportable, and resistant to shocks and falls. For this reason, it's the most convenient option when moving around or when your little one already manipulates the bottle by themself.
Today, most plastic bottles are made of materials that are safe and suitable for feeding infants. However, the time of use and the temperature of sterilization wear them down little by little.
It's common for the color of the bottle to become more opaque, to acquire a certain odor, and to suffer scratches or tears. Germs proliferate in these imperfections and that's why we insist on keeping these containers very clean.
Ideally, you should avoid putting them in the microwave to avoid deterioration and to prolong their useful life.
An important aspect to consider
When choosing a plastic bottle, you should know that there are regulations for the manufacture of these utensils. For example, the prohibition of the use of bisphenol A (BPA) among its components.
This chemical is commonly used for the manufacture of different plastics. However, the accumulation of this substance in the body of babies can be quite harmful. Among some of the diseases related to BPA, metabolic, hormonal, liver, and even tumor disorders have been described.
The use and sale of bottles containing BPA are prohibited in the European Union and in the United States. Therefore, to check the quality of the bottle that you're going to buy, you need to observe two aspects:
Labeling: If the legend "UNE-EN14350" appears on the packaging, it means that it complies with European regulations. Or, the label may read "BPA free".
The bottom of the bottle: There, you should find a triangle with a number. Ideally, you should avoid those with the numbers 3, 6, and 7 or the letters PC, as they may contain BPA. Those with the numbers 1, 2, 4, or 5 are safe.
Glass baby bottles
Glass baby bottles are often recommended for being one of the easiest to clean and sterilize. The characteristics of the material prevent germs from adhering to the walls of the container.
Therefore, glass bottles are considered safer for the baby's health in terms of the risk of infection.
In addition, the wear of this material is almost zero: It doesn't change over time, it doesn't stain, it doesn't acquire any smell or taste and it doesn't deteriorate with temperature. This makes it suitable for direct heating in the microwave, as it doesn't eliminate any toxicity with heat exposure.
Finally, it's a transparent, hard, waterproof material, it's non-porous, and it has great resistance to scratches. These features give it great durability unless it's dropped and broken.
In any case, glass is a more environmentally friendly material, and in the event of breakage, it can be recycled.
One of the disadvantages when it comes to glass bottles is their weight, which can be a problem when transporting them.
Another drawback is their fragility, so it's not an object that children should manipulate on their own.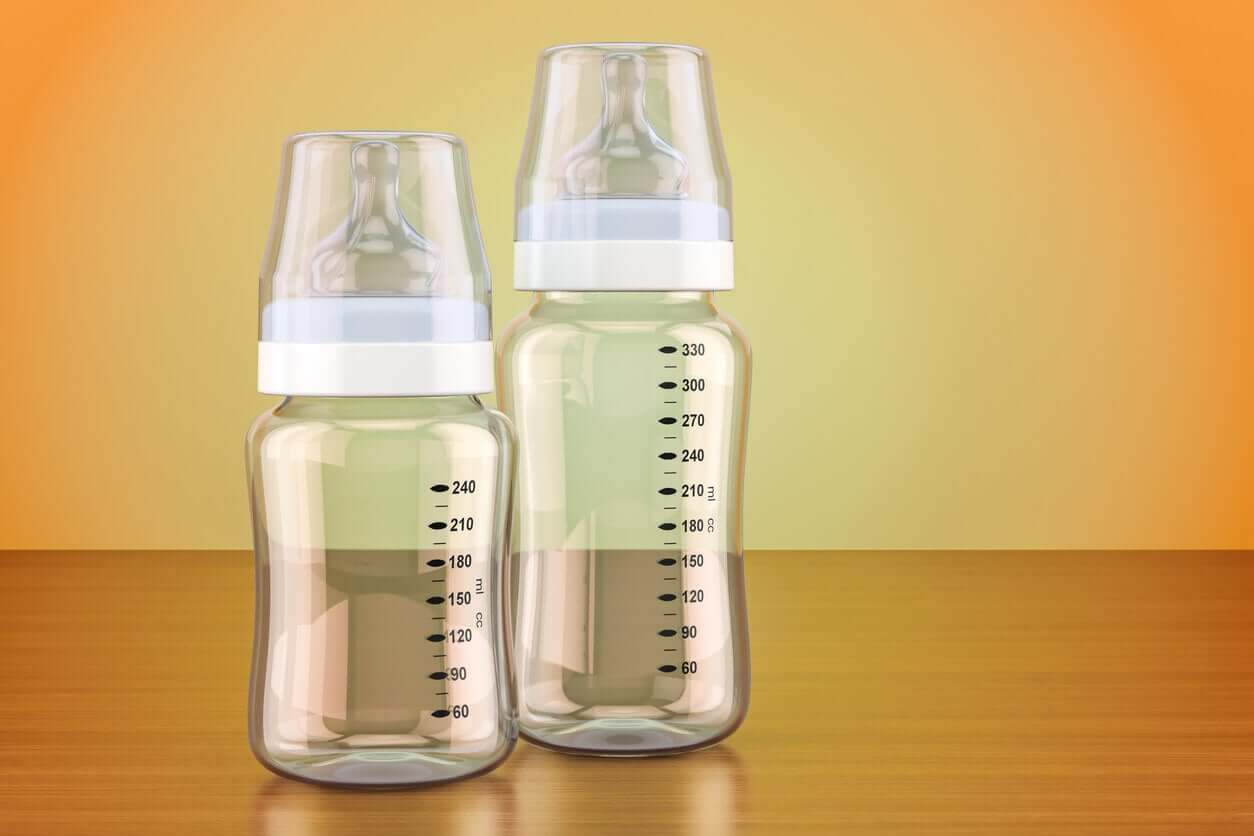 A personal choice…
As you have seen, choosing a plastic or glass bottle depends largely on the preferences and needs of each family. Each of the materials has its advantages and disadvantages, but they respond better to different situations.
Glass bottles can be helpful for the baby's first months. But when it comes to using them outside the house or when the baby wants to hold their own bottle, plastic ones are lighter and safer.
In order to choose a plastic or glass bottle, it's best to think about the times when the bottle will be used, the age of the child, and family preferences. Both options have their benefits and you and your baby will be able to find the one that best suits your own needs.