The Relationship Between Breastfeeding and a Baby's Immune System
Breastfeeding and a baby's immune system create a relationship that helps to fight and prevent infectious diseases. Learn more.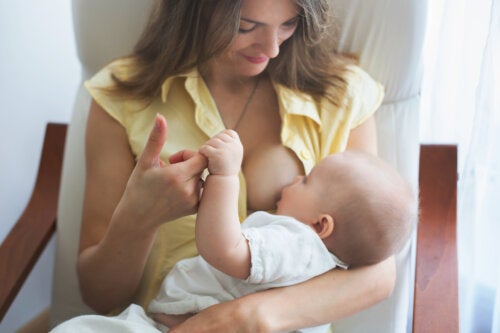 Major health organizations recommend breast milk as the exclusive food for infants up to 6 months of age. One of the reasons, in addition to nutrition, is that breastfeeding and the baby's immune system create a relationship that helps fight and prevent infectious diseases.
Together with its nutrients and other active components, breast milk provides a protective barrier for babies. This occurs from the very moment of birth, with the secretion of the first milk, also known as colostrum. If you stay with us, you'll discover how breast milk builds and strengthens a baby's immune system to grow healthier.
What's the immune system and how does it develop in the baby?
As a mother, you've probably heard that your child's defenses against disease need to be strengthened. For this reason, pediatricians recommend exclusive breastfeeding and a vaccination plan. But do we really know what the immune system is and how it's formed in babies?
The immune system is a natural defense mechanism that the body has in order to fight certain infections. These are usually caused by bacteria or viruses. In children, this mechanism is provided by the mother at 2 different times:
Before birth: She transmits part of her immunity to the fetus while it's still developing in the womb. Therefore, at birth, the child already carries a temporary defense.
During breastfeeding: Within one hour after birth. Breast milk contains hundreds to thousands of bioactive molecules that protect and strengthen the immune system against infections. According to the guidelines for complementary feeding in healthy infants, it should continue for 2 years to support complementary feeding.
Read also: 4 Foods that Boost Children's Immune Systems
Breastfeeding and a baby's immune system
A 2022 review in the journal Frontiers in Immunology explains that the functions of the different components of breast milk are far from fully understood. But, what we do know is breastfeeding provides cells and nutrients that help build a baby's immune system.
Bioactive nutrients
A publication from some time ago states that breast milk has nutrients with protective action against viruses, bacteria, and parasites. Some proteins prevent the nourishment of pathogenic bacteria. This is the case of lactoferrin–which traps iron–as well as vitamin B12 and folic acid binders. There are also enzymes, such as lysozyme and lactoperoxidase, which destroy them.
In addition, milk has anti-infective factors, such as the Bifido factor, which stimulate the growth of beneficial bacteria, such as Lactobacillus and Bifidobacterium. These form part of the child's intestinal microbiota and prevent the growth of harmful intestinal germs. Other anti-infective factors in breast milk are the so-called oligosaccharides, gangliosides, and staphylococcal resistance factor.
Stem cells
Mothers pass on their immunity to their children during pregnancy and after birth. A recent study confirmed that breast milk contains stem cells, of which immune cells account for at least 2 per 100 milliliters. A baby consumes between 0.5 and 1.5 liters of breast milk per day. However, the passage of these cells into the newborn's intestine and from there into the baby's blood is still under investigation.
Innate immune cells
The review also indicates that, in addition to stem cells, breast milk also contains other immune cells. These provide active immunity in the newborn because of their ability to produce bioactive molecules for defense. These include the following: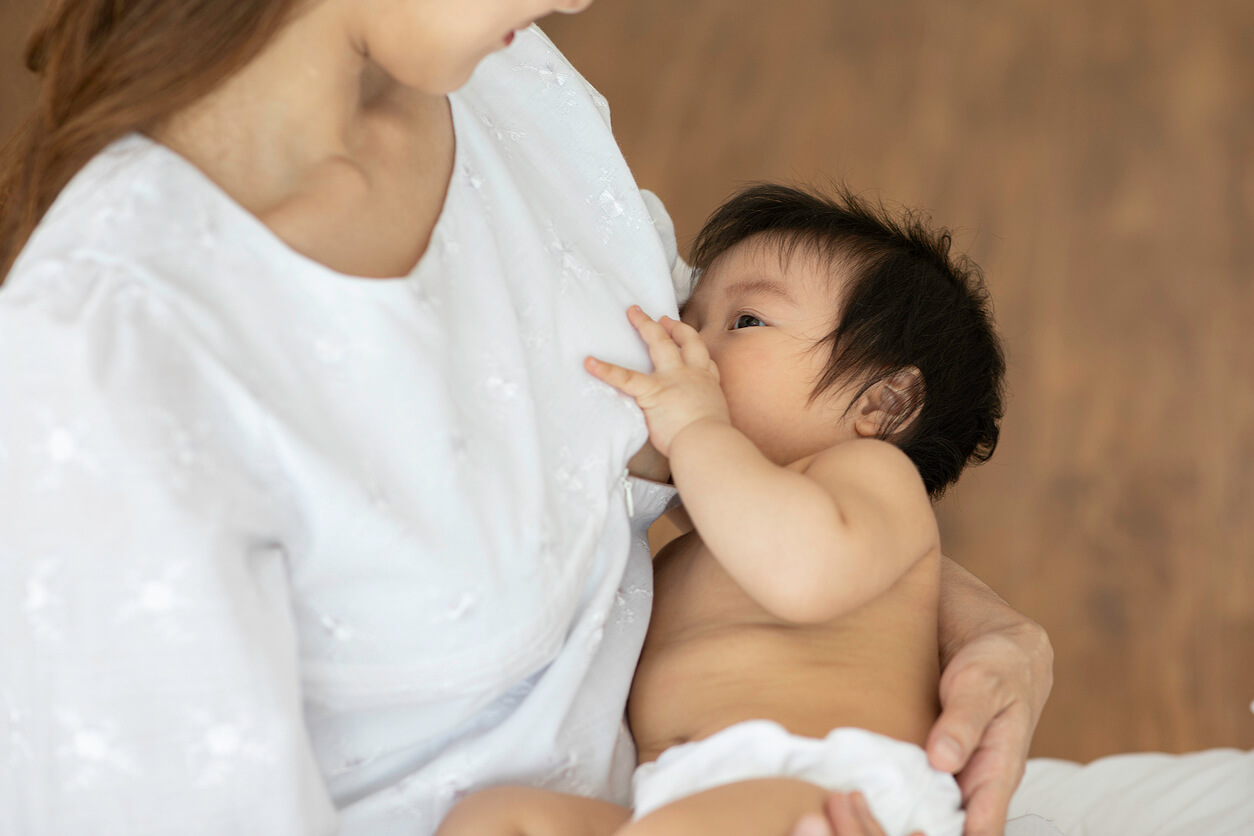 Adaptive immune cells
Among this group of cells, we find the following:
T lymphocytes: They're key players in adaptive immunity and represent 5 to 10% of all leukocytes in breast milk.
B lymphocytes: The presence of IgA, IgG, and IgM antibodies in breast milk is produced by these lymphocytes. The antibodies neutralize and eliminate pathogenic viruses and bacteria, as well as toxins and substances produced in inflammatory processes.
Extracellular microvesicles: A review published in Frontiers in Immunology reported the presence of extracellular vesicles in breast milk that appear to shape the infant's immune system and, above all, its intestinal response.
Cytokines and chemokines
The Journal of Clinical Immunology published that immune cells in breast milk can produce small proteins called cytokines and chemokines that shape the maturation and development of immune cells in infants.
Breast milk microbiota
Breast milk contains a large number of bacterial species with antimicrobial properties and health benefits. According to the journal Nutrients, this microbiota includes probiotics, beneficial and commensal, which support the integrity of the intestinal barrier.
As reported in the journal JAMA Pediatrics, breast milk appears to be the second source of bacteria for the baby after birth. In addition, there are more than 100 species, including Lactobacillus and Bifidobacterium. These bacteria are known as probiotics because of their positive effect on health and they're part of the intestinal barrier that fights pathogenic microorganisms.
Read also: 8 Probiotic Foods for Pregnant Women
Does breastfeeding protect a baby's immune system?
There's no doubt that breastfeeding protects children from infections and other diseases. In this regard, the anti-infectious and immunological properties of this food are well documented.
The task for mothers is to ensure that babies receive, within one hour after birth, colostrum and all the breast milk their little ones demand. Its benefit is so effective that it's recommended until at least 2 years of age, together with complementary feeding. Don't forget that it's the child's pediatrician who will monitor their development. Therefore, together, you'll decide on further protective measures during their growth.