The Psychological Benefits of Breastfeeding
Breastfeeding nourishes the baby both physically and emotionally. The psychological benefits of breastfeeding for both mother and child make this feeding medium an ideal choice.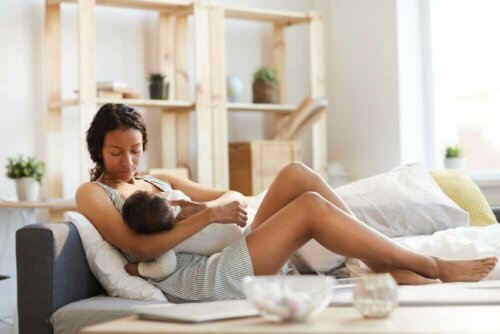 Breastfeeding your baby not only nourishes them physically, but also emotionally. The psychological benefits of breastfeeding are numerous and its impact isn't limited to the first few months or years of life. The imprint it creates has an impact on the person even into adulthood.
Continuity
The nutritional value of breastfeeding is unquestionable, but it also has great psychological repercussions. After nine months of being sheltered in a safe and comfortable environment, the baby is expelled into an overwhelming world full of unknown lights, sounds and smells.
The little one needs the continuous physical presence of their mother and the assurance that she's still there to meet their needs. At these times, the breast, for the child, becomes synonymous with affection, comfort, and protection.
Holding the baby in your arms, skin to skin, and breastfeeding them allows them to perceive the same familiar stimuli that they received inside the womb. Feeling their mother's breathing and heartbeat gives them a sense of continuity of life before and after birth.
The baby then feels comforted, comfortable, and calm. As they breastfeed, it confirms the love and protection of the mother, and the baby experiences the certainty that she's by their side as they adapt to this new world.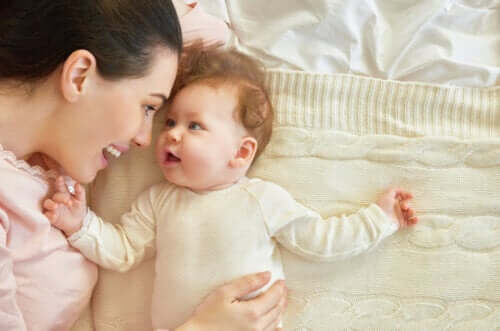 Psychological benefits of breastfeeding for the baby
The beneficial effects of breastfeeding extend into adulthood because of the positive psychological imprint it creates. Because of this, the baby creates mental representations of the world as a safe and kind place, and of their parents as a source of affection and trust.
But what, specifically, are the psychological benefits of breastfeeding?
The emotional bond between mother and child is strengthened and reinforced through breastfeeding. The bond will help the child to feel safe emotionally and to suffer less stress. In addition, it will benefit their cognitive development, as learning occurs more easily if there's emotional closeness to the adult.
Babies who have been breastfed develop greater self-confidence, self-esteem and autonomy.
They show better emotional management. This turns into a healthy capacity to show affection to others, good stress management skills, and a more positive attitude towards life.
These children also show better social adjustment. They have good communication skills and are able to establish appropriate emotional bonds. As a result, the quality and stability of their social relationships are higher.
Psychological benefits of breastfeeding for the mother
Postpartum is a complicated time for the mother. It's the culmination of the whole pregnancy journey, and brings with it expectations and fears. The hormonal changes that occur can further increase the intensity of the experience.
However, breastfeeding can help, to a great extent, in this process of adaptation to motherhood. Breastfeeding helps many women to establish themselves as capable mothers, increasing their self-esteem, and dispelling many of their doubts they may have about themselves.
In addition to this, it's beneficial in decreasing the emotional stress and anxiety which is characteristic of these first few months. It significantly decreases the risk of postpartum depression.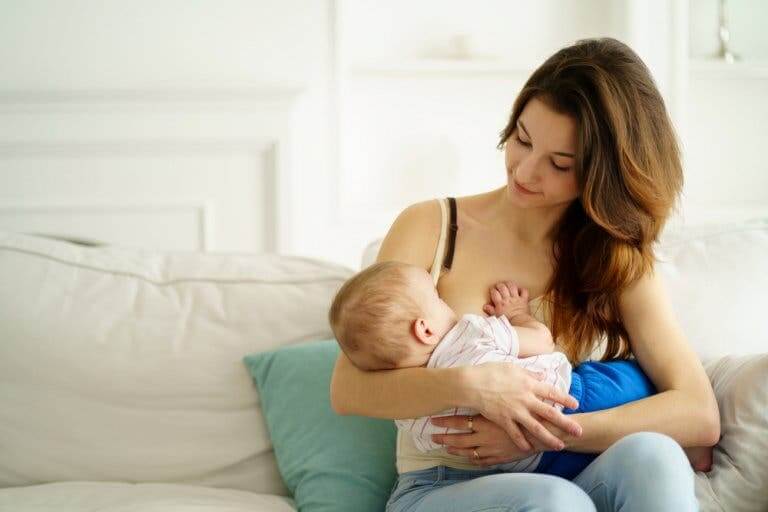 Things to keep in mind
Prolonged breastfeeding
Despite the social taboo surrounding prolonged breastfeeding, there aren't any recognized negative side effects. The baby won't become overly dependent if they continue breastfeeding after two years of age. Nor will they lack any sort of autonomy.
On the contrary, a respectful, progressive weaning guided by the growth of the child will avoid them suffering the anxiety of having to stop breastfeeding before being ready to do so.
Every mother is different
Breastfeeding is the ideal means of feeding the baby, provided that it's a happy and rewarding experience for both the child and the mother. If it becomes distressing or either of them suffer in any way, then it's best to look for other options.
Similarly, if it hasn't been possible to establish breastfeeding successfully, then we can obtain many of its psychological benefits by having lots of physical contact with the baby. Hold your baby as much as possible and keep them close to your breast. This will make them feel loved and protected.