Why Should Babies Not Drink Cow's Milk?
Babies shouldn't drink cow's milk for a number of reasons that we'll explain in the following article. Keep reading!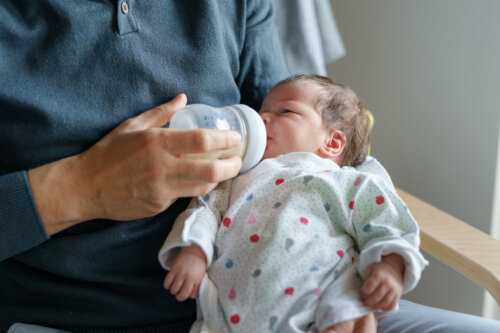 Cow's milk is considered a healthy food with high nutritional density. However, babies shouldn't drink cow's milk for a number of reasons that we're going to explain below. It's important to keep in mind that during the first stages of life, there are dietary restrictions that will be eliminated over time.
If you have doubts about what a baby can and cannot eat, it's best to consult a specialist. Introducing an unsuitable product into their diet could cause damage to the digestive function or alterations in the state of health that manifest themselves in the medium or long term.
Babies under one year of age shouldn't consume cow's milk
During the first year of life, the baby's digestive system is optimized to process breast milk. However, it's not able to properly handle other foods such as cow's milk, partly because of its nutrient concentration. This element should not be included in the diet until after 12 months of life in order to prevent protein overload.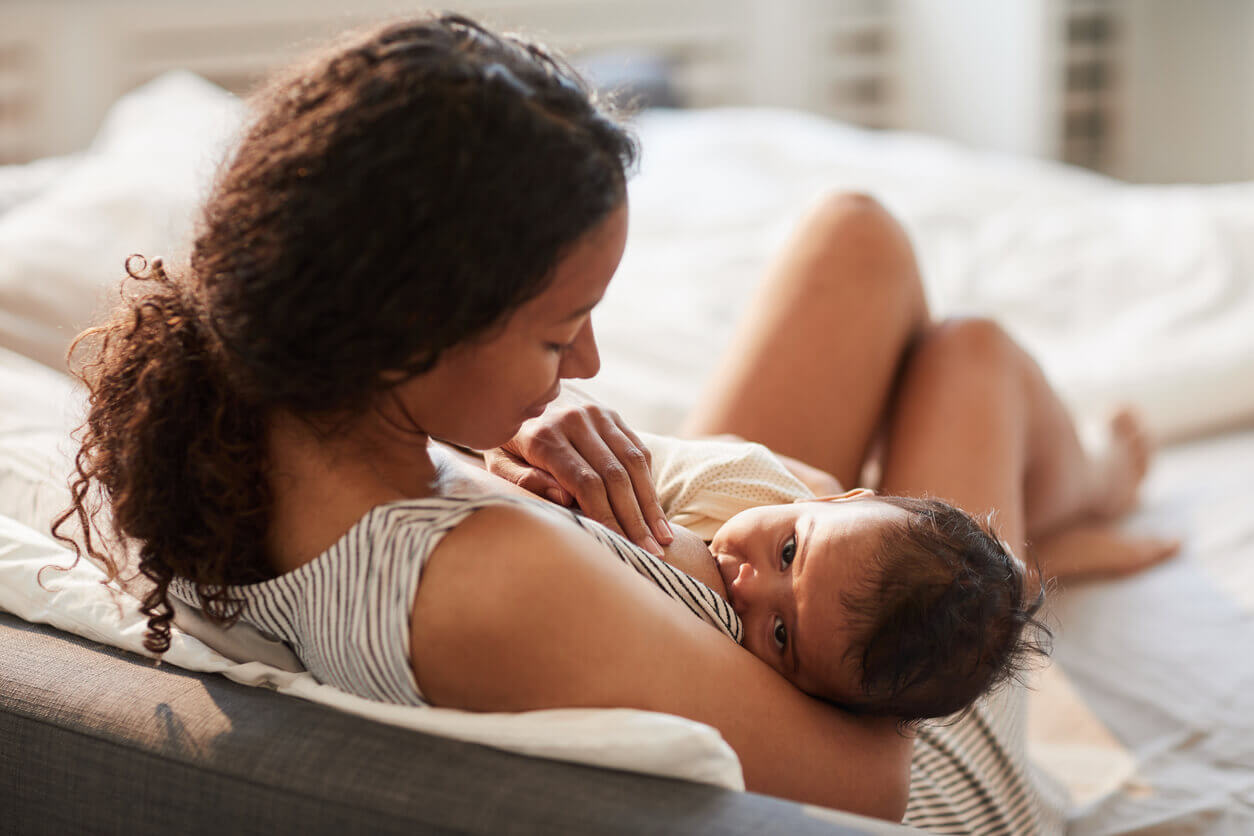 It should be noted that breast milk has a protein concentration of 1 gram per 100 milliliters. Cow's milk, on the other hand, is capable of providing 3.3 grams per 100 milliliters of food. This is excessive for a baby, as they're not able to excrete and filter excess nutrients.
Although it has been shown that during the first stages of life, protein needs are increased, the intake must be progressive. Also, the concentration of solutes in the solution has an influence, with breast milk being a much more respectful product for the newborn's excretory system.
Likewise, the capacity for iron absorption by the child varies depending on whether breast milk or cow's milk is administered. It's much higher in the case of food from the mother. This prevents an inefficient supply of a nutrient that generally has a low availability.
The risk of allergies
In addition to the above reasons, it should be noted that children under one year of age are at an increased risk of developing an allergy to cow's milk proteins if cow's milk is introduced into the diet early. For this reason, if breast milk can't be consumed, it's best to opt for a hydrolyzed version to facilitate digestion.
According to research published in the journal Nutrients, there are several options on the market to replace breast milk when it can't be administered, whatever the reason may be. Many of them are of vegetable origin, but there are also cases of foods of animal origin with partially digested proteins to avoid autoimmune reactions.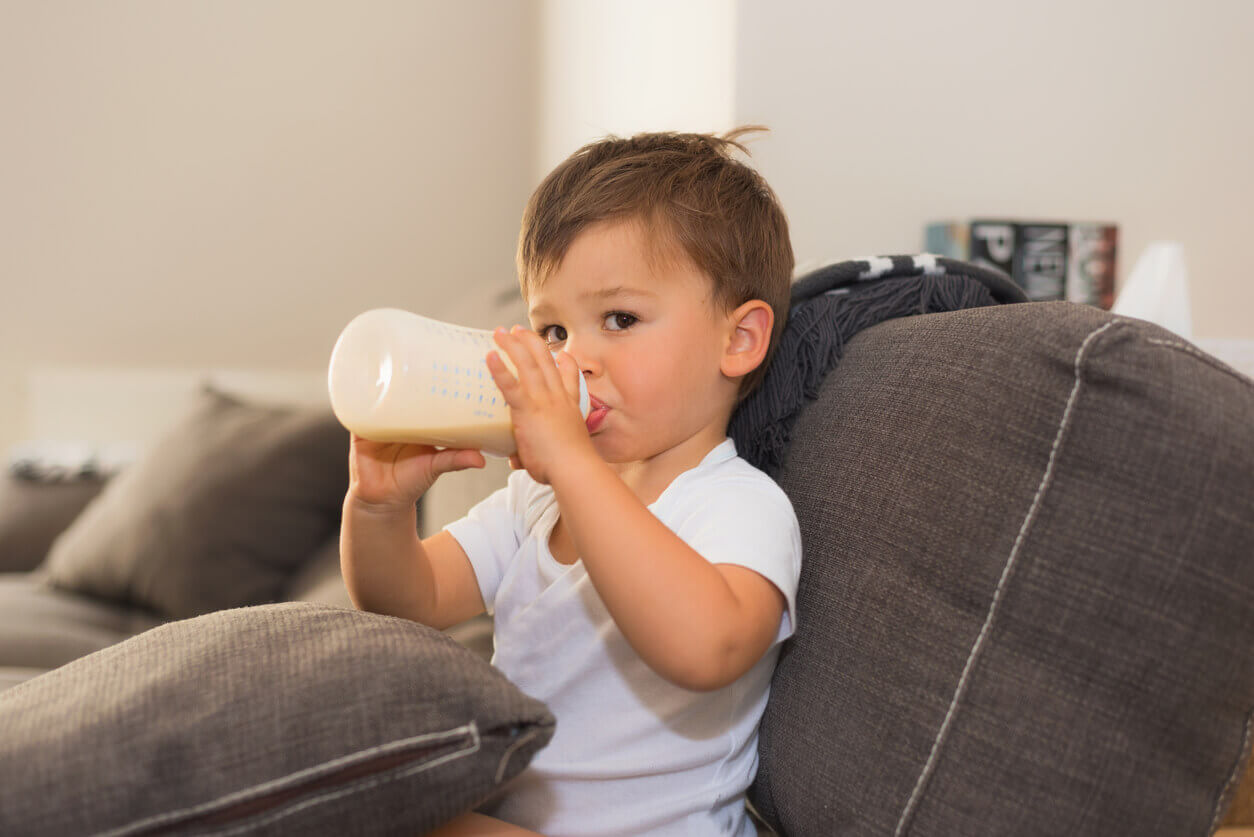 When can babies start to drink cow's milk?
Although some experts recommend waiting until the third year of life to include cow's milk in the diet, the truth is that most of the evidence confirms that once the baby is 12 months old, cow's milk can be administered. However, attention should be paid in case any type of symptomatology develops after its ingestion. In this case, it's best to consult a doctor.
In any case, before taking this step, it's a good idea to offer some type of formula milk enriched with nutrients such as omega-3 fatty acids. If the baby tolerates this product well, it can be gradually replaced by cow's milk without major problems.
Avoid offering cow's milk to babies before 12 months of life
As you've seen, it's crucial to avoid the inclusion of cow's milk in infant feeding before the first year of life. Otherwise, there could be harmful consequences for the child's health, such as allergies, intolerances, or problems with iron levels in the body.
For this reason, we recommend that you be patient and extend breastfeeding at least until the baby is 12 months old. From this point on, formula milk can become more important and cow's milk can be introduced into the child's diet.