Teaching Non-Cognitive Skills to Children
Non-cognitive skills are present in academic processes. They're necessary for children to develop their capacity for self-regulation. These skills improve children's well-being and help them develop healthy habits.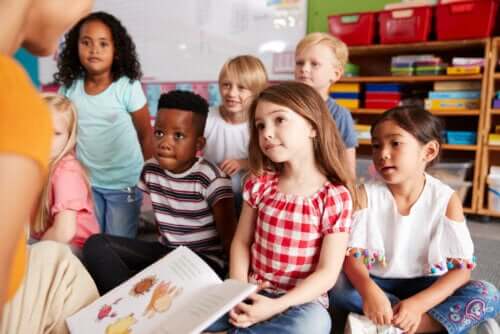 We all know that when children start school, they work on their cognitive skills, which include calculation, language, knowledge of the environment, etc. But we forget that, for the purpose of holistic learning, this alone isn't enough. It's also very important to teach children non-cognitive skills.
So, this is precisely what a group of researchers and professionals led by Ildefonso Méndez, from the University of Murcia (UMU), have created. They worked on a project called Non-Cognitive Skills – Educate to Be, which is already being implemented in many schools in Spain and other countries.
It's essential to develop not only children's intelligence and cognitive abilities, but also skills that help them build healthy habits, social skills and self-regulation of their emotions. If you want to know more about this project, read on.
What are non-cognitive skills?
To a greater or lesser extent, this is a group of skills that people have independently of their intelligence. Consequently, these skills refer to attitudes, abilities, social aptitudes, dispositions and personal resources that continuously inter-relate with cognitive skills.
These are key to achieving well-being in life. Moreover, they're malleable throughout life and significantly enhance cognitive, emotional and social development.
What's the "Non-Cognitive Skills – Educate to Be" program?
It's a project that starts in the early stages of kindergarten and ends in the final year of primary school. More than 60 schools have already implemented it in their classrooms.
This project includes stories, videos and activities, and its main characters are funny animals: Flama (lion), Moni (monkey), Lulo (owl), Nequi (giraffe) and the turtle teacher. Together with these characters, children will experience adventures to develop their capacity for self-regulation.
The implementation of this program helps children improve their school performance and social and emotional skills, that is, their well-being. How?
Project objectives
The aim to is to help children develop self-regulation skills so they can achieve a higher level of well-being throughout their lives. These skills are fundamental to:
Who is this program aimed at?
It's aimed at all children, as self-regulation skills bring benefits to all children regardless of their level of neurological development.
How can parents improve children's non-cognitive skills at home?
It's important to develop non-cognitive skills as well as cognitive ones as there are multiple benefits of each. For instance, improving children's capacity for self-regulation will help them develop healthy habits, cope with the world and be happy in the future.
The development of these skills is fundamental to both family and children, to improve their well-being in the present, but also for when they're adults.
"Education doesn't change the world, it changes the people who'll change the world."

 – Paulo Freire –
It might interest you...