The Representation of Maternity in Children's Literature
A mother figure is essential for every child. And as little ones read about maternity in children's literature, they can discover more about her thoughts, feelings, and actions.
Mothers are the first figures with whom children establish an emotional connection. In fact, this bond develops even while the fetus is in the womb, during pregnancy. Therefore, there are many authors that have set out to represent maternity in children's children's literature. And of course, as society advances, the image and role of mothers changes, just like every other aspect of life.
It's not easy to explain the role of mothers within the family, their daily life, and their feelings to children. Therefore, representing motherhood in children's literature is a much simpler way for children to grasp these concepts.
"There is nothing as powerful as a mother's love, and nothing as healing as a child's soul."

– Unknown –
Maternity in children's literature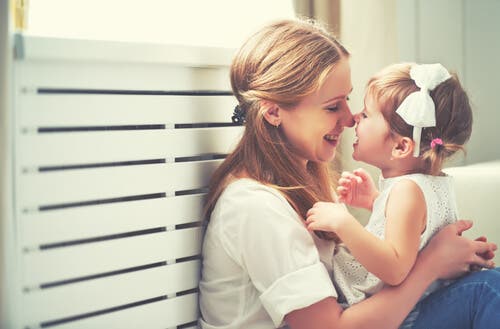 2. Mum at school, by Eric Veille
One of the most important events in a child's life is his or her first day at school. It's not only the beginning of a new stage… it's also the end of a very important one. It's the time when little ones must separate from their mother for the first time.
And that's what the tiny protagonist in our story discovers once she gets to school on the first day. When she walks in, she finds all of the other children crying, kicking, and screaming nonstop.
So, when her mother tries to say goodbye, the little girl begs her to stay. And, guess what! Her mother says yes! Therefore, the mother and daughter spend the first day of school together.
Little by little, the small girl starts to adapt to this new place. However, that's not quite the case for her mom. Will she ever be able to go to class alone? This fun story will make little ones realize the importance of gaining independence during this new stage in life.
3. I love you always, by Astrid Desbordes
This is the perfect story to read when putting your children to bed. Here, the main character asks his mother a very important question: "Mom, will you love me my whole life?" Rather than simply saying yes to her son, the mother starts to explain all the reasons she'll always love him .
The simple illustrations that accompany the text are fantastic and easy for little ones to interpret. As you read the story, your children can observe the child protagonist carrying out different adult roles. And the most important part of this story comes at the end.
Here, the mother teaches her son that, no matter how much time goes by, she'll always love him. 
4. Guess How Much I Love You, by Sam McBratney
Here, we have one of the best representations of maternity in children's literature. The story perfectly demonstrates the love of a mother for her child and vice versa.
The main characters of the story are a mother rabbit and her adorable baby. Page after page, the little bunny tries to explain the amplitude of the love he feels for his mother. However, his mother always wins by expressing an even greater love for him. Will the baby rabbit find a way to demonstrate that his love is even greater than his mother's?
5. Someday, by Alison McGhee
One of the most tender and emotional stories that you can find when it comes to maternity in children's literature. The story involves the evolution fo a young girl, from the time she's born until she becomes old. Every step of the way, her mother is right there to help and guide her.
The mother's unconditional love and her constant presence in her daughter's life are two of the story's main themes. Without a doubt, more than a few mothers will tear up as they read this story to their children.
"They won't remember that you were too tired to cook dinner, or that the laundry was always there, or even that you struggled to lose the baby weight (if at all). What they will remember is the laughter as you play together. Reading together in pillow forts. The warm mama hugs as they drifted off to sleep. They will remember that you were there, no matter what. And that sweet mama, is everything."

– Proud Happy Mama –
It might interest you...
---
All cited sources were thoroughly reviewed by our team to ensure their quality, reliability, currency, and validity. The bibliography of this article was considered reliable and of academic or scientific accuracy.
---
Ruiz, J. (2016). El viaje de mamá. Kalandraka.
Veillé, E. (2018). Mamá va al cole. Blackie Little.
Desbordes, A. (2018). Mi amor. Kokinos.
Mc Bratney, S. (2018). Adivina cuánto te quiero. Kokinos.
Mcghee, A. (2007). Algún día. Serres.
---