Talking to Preadolescents About Sex
As puberty approaches, it's important to talk to preadolescents about sex so that they learn, in a healthy way, that sex is a part of life.
When children ask questions about sex, this shouldn't be cause for alarm. What's more, talking to preadolescents about sex before the onset of puberty will help them acquire a healthier vision of sexuality. With that in mind, this article aims to help parents handle the sexual education of their preadolescents.
Defining sexuality
The Better Health Channel states that "Sexuality is about your sexual feelings, thoughts, attractions and behaviors towards other people. You can find other people physically, sexually or emotionally attractive, and all those things are a part of your sexuality."
In other words, sexuality is the way in which individuals express, communicate, feel, give, and receive pleasure. This can be through words or through the body's five senses.
What's more, the way a person expresses and enjoys sexuality is unique to each individual. It depends on a person's personality and cultural context.
Talking to preadolescents about sex is a family's responsibility
When we think of talking to preadolescents about sex, the picture that we tend to imagine is that of a school sex education class. However, the Society of Pediatrics and First Aid of Extremadura, Spain (SPAPEX) provides a different image.
According to SPAPEX, parents should be the main educators of their children when it comes to sexuality.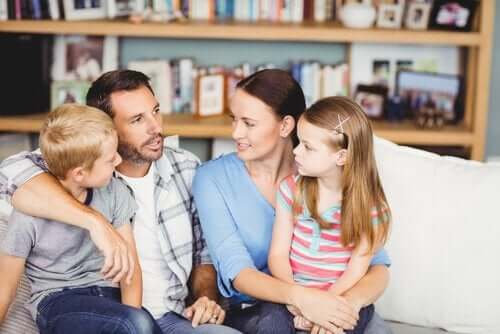 In other words, it's not just the school's responsibility to teach sex education. Rather, it's also the responsibility of the family – and even more so. In short, sex education should focus on learning to express their sexuality in a healthy way.
But, to make that happen, pediatrician Mercedes Reymundo and family practitioner Maria Teresa Peinado insist on dialogue. Parents should never try to avoid the questions that their children ask them about sex.
"If we avoid questions and fail to respond or respond with lies, then we shouldn't complain when children stop trusting their parents and don't want to listen to us during adolescence."

– Maria Teresa Peinado and Mercedes Reymundo –
Tips on how to talk to preadolescents about sex in a healthy way
Begin your conversations with them in a natural and honest way. Talking about sex from an early age will pave the way for future conversations when children are in the middle of adolescence. And, more importantly, it also helps them to acquire a positive and healthy vision of sexuality.
Don't talk to them about things they don't need to know yet. This means listening to your children first in order to know just what it is they need to know. It also helps you assess how much information they already have, and whether or not this information is accurate.
Teach them that sexuality is something natural. For example, address the issue of masturbation in a natural way, teaching them that it's not something they should be ashamed of. Explain that this is a private activity that many people choose and decide to partake in willingly. Also, explain what it is.
More tips on how to talk to preadolescents about sex
Talk to preadolescents about sex in a respectful way. Children should learn to express their sexuality in a way that makes them happy but at the same time shows respect for others. Teach them that sex is an intimate activity but forms part of a person's private life.
Children should feel comfortable and confident talking to you about sexuality. That way, they know they can come to you when they have doubts and they won't need to feel ashamed.
Both parents should be involved in the sex education of their children. Everyone should take part in conversations about sexuality. At the same time, preadolescent children should understand that talking about this subject is a good thing.
In conclusion, it's extremely important to talk to preadolescents about sex and sexuality prior to puberty. That way, they'll learn about health and respect not just at school, but in their homes as well. Therefore, creating a climate of trust where your children feel free to express themselves openly from a young age is fundamental.
"A climate of trust allows children to tell us what they need to tell us without fear."

 – Graciela Hernández and Concepción Jaramillo –
It might interest you...
---
All cited sources were thoroughly reviewed by our team to ensure their quality, reliability, currency, and validity. The bibliography of this article was considered reliable and of academic or scientific accuracy.
---
Hernández, G. y Jaramillo, C. (2006). La educación sexual de niñas y niños de seis a doce años. Guía para madres, padres y profesorado de Educación Primaria. Ministerio de Educación y Ciencia y Ministerio de Trabajo y Asuntos Sociales. CIDE.
Peinado, M.T. y Reymundo, M. (s.f.). Consejos para padres sobre educación sexual. Consejos de Salud. Spapex. Recuperado de: https://www.spapex.es/psi/educacion_sexual.pdf
---