Strategies to Help Control Sibling Rivalry
In certain families and situations, tension between siblings can be an issue. In this article, we'll share a few strategies to help you control sibling rivalry.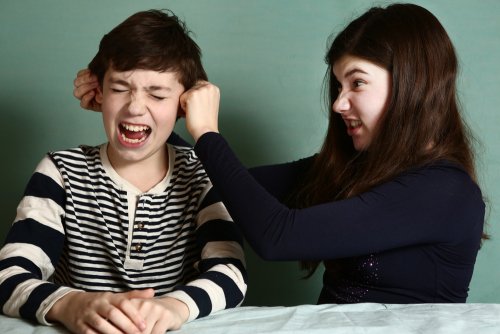 At certain points in their children's upbringing, parents have to mediate family conflicts, often wondering about the best way to keep sibling rivalry under control. They need to ensure that these tensions don't escalate into verbal or physical acts of violence.
While it's not always the case, as a rule, siblings will tend to fight and argue with each other. This occurs during certain age ranges, when they're very young and when they're teenagers. However, sibling rivalry can continue even when they're older.
The causes of sibling rivalry
Siblings will start having conflicts from the moment the second child is born. The first-born will often feel a sense of resentment toward their younger brother or sister. They may even feel abandoned by their parents.
As they grow up, the conflicts will stem from a variety of reasons, usually depending on the personalities of each sibling as well as their interests.
But the nature of these conflicts also depends on the upbringing and education the children receive. Parents need to try to develop and cultivate the right kind of sibling relationships.
Fights, arguments, tantrums and jealousy can owe to many causes. These include the need to be the center of attention, the desire for material objects, and the need to be right in every situation.
For whatever reason, even though siblings play together, share and defend each other from others, they also compete and mark territory.
For parents, it can be complicated and exhausting to mediate their children's battles and grudges, all while trying to figure out how to keep the rivalry under control.
How to control sibling rivalry
There are no magic solutions. However, there are some pieces of advice parents can heed in their mission to foster peace among their children.
Additional tips
Conclusion
We need to raise our children by setting examples. Siblings will be less likely to embrace conflict if they grow up in an environment of peaceful coexistence and constant dialogue. These lessons will be further reinforced if there are no contradictions between what you preach and what actually happens in their environment.
It might interest you...