5 Activities for Exploring Tactile Stimulation in Children
The sense of touch provides us with information about our surroundings and our own bodies. Discover 5 activities to explore tactile stimulation in children.
Tactile stimulation in children is fundamental from an early age. Experiencing and understanding the different senses (sight, hearing, smell, taste, and touch) is very important. The senses not only help children to explore their world, but also to comprehend their environment and own bodies.
Our sensations are the basis of all knowledge. Our learning depends on the sensations that surround us, on the sensations that our senses explore. When we stimulate these senses, we stimulate – in a sense – structural growth of the brain.
The sense of touch is one of the most important sense; it's one of the first senses that human beings develop.
In this article, we're going to focus above all on tactile stimulation – on touching and feeling. We'll make a compendium of sensory activities for children that focus specifically on this type of stimulation. Your little ones will be sure to enjoy each one.
5 activities for exploring tactile stimulation in children
1. Blindfolded search
A great game for stimulating the senses consists of blindfolding one child and having him or her search for friends or siblings. Upon finding them, the blindfolded child must identify each one, without looking.
Another option is to have children look for objects. To do this, ask children to touch objects that he or she finds in the room and guess what they are.
We suggest adding new objects without your children seeing them, and having them guess what they are. For example, you can take children to an office and have them touch books, pens, erasers, and a desk lamp, etc. Have them describe exactly what they're feeling and what they think they're touching .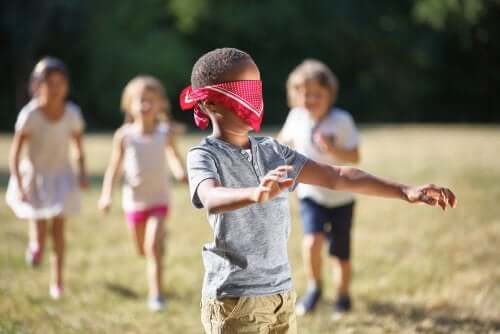 2. A texture box
As the name indicates, here we'll put together a box of different textures. You'll need a box in which you'll create small separate spaces. For example, you can put empty yogurt containers inside.
You'll then fill each space with different objects. Besides objects, you can also use things like rice (dry or cooked), oil, warm water, seeds, sand, etc. Then, let your children explore the different texture with their hands .
3. Pull an object out of the bag
Another object to explore tactile stimulation in children involves a bag full of random items. Choose a variety of objects that are easy to identify by touch. For example, a comb, keys, blocks, marbles, etc. Then, ask children to identify the objects they find in the bag, without looking.
Another way to play this game is to have one child describe one of the objects to the rest. Then, the rest of the children must find the given object in the bag, without looking. The idea is for them to touch the objects and then take out whichever best fits the description. You can also ask children to put their hands in the bag, touch an object, and describe it.
4. Play with shaving cream
This is the most complicated activity on our list from an organizational point of view. It involves taking several bowls and placing a bit of shaving cream in each one. Then, mix a bit of different colored watercolors to each bowl to color the foam.
Then, lay a large sheet of paper out on a table (paper from a roll is best). Then, ask children to draw an object – an animal or a fruit for example. Then, have them color it in with the tinted shaving cream using their hands. This is a very fun activity for experimenting with touch and sensations.
5. Playdough
Playdough and molding clay are materials that almost all children love. They can use these materials to make all sorts of creations, developing their imaginations. What's more, playing with playdough and clay boosts concentration by offering them long- and short-term goals
This type of activity isn't only fun, but it's also relaxing and promotes mindfulness. This is a great option for helping children calm down after a moment of anxiety. It's also a great activity for children who are hyperactive.
Conclusion regarding activities for exploring tactile stimulation in children
With these simple activities, you'll give children the opportunity to explore their ability to touch and feel. Exploring and experiencing while touching and manipulating objects is a fundamental part of a child's development process. These kinds of activities are beneficial for all types of learning.
It might interest you...
---
All cited sources were thoroughly reviewed by our team to ensure their quality, reliability, currency, and validity. The bibliography of this article was considered reliable and of academic or scientific accuracy.
---
A. Rόiste, I. W. R. Bushnell. (1996). Tactile stimulation: Short‐and long‐term benefits for pre‐term infants. British Journal of Developmental Psychology.
de Awad, M. T. (1998). El juego, espacio natural para favorecer el desarrollo motor. Revista Ocupación Humana, 7(3), 43-67. https://latinjournal.org/index.php/roh/article/view/1258/977
GÓMEZ, A. A. (2010), & PSICOMOTRICIDAD, J. P. JUEGOS PSICOMOTRICES PARA LA CLASE DE 3 AÑOS. https://archivos.csif.es/archivos/andalucia/ensenanza/revistas/csicsif/revista/pdf/Numero_28/ANTONIO_ALAMINOS_1.pdf
González Guerreiro, M. (2018). DON'T STRESS, DO YOUR BEST: Una aproximación al pensamiento positivo ya la gestión del estrés a través la práctica artística. https://riunet.upv.es/handle/10251/109926
Maldonado Lupiáñez, M. I. (2015). Estimulación sensorial: Relajación y masaje en la infancia. https://digibug.ugr.es/bitstream/handle/10481/40963/Maldonado_Lupi%c3%a1%c3%b1ez_Mar%c3%ada_Isabel.pdf?sequence=1&isAllowed=y
Rivero Pérez, M. D. R. (2013). El valor educativo de los cuidados infantiles: para la atención de los niños y niñas de 0 a 3 años. Guía de orientación.
Vásquez Chiquito, L. V. (2013). Implementación de un aula de psicomotricidad para estimular la madurez neurofuncional de niños de 0 a 3 años (Bachelor's thesis, Universidad del Azuay). https://dspace.uazuay.edu.ec/handle/datos/560
---