My Daughter Will Never Need to Be Saved by a Prince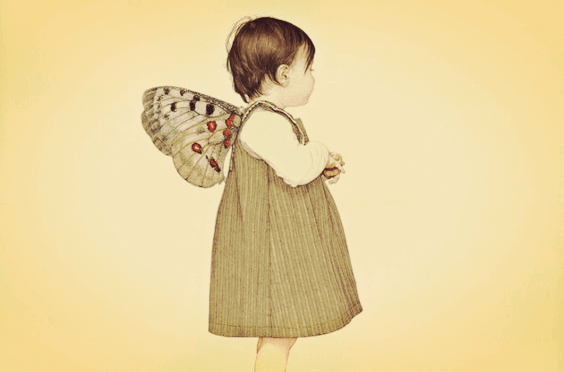 In recent years, we have experienced a golden age in terms of gender equality and women's rights. In fact, there is something very clear to today's mother: my daughter does not need to be saved by a Prince Charming.
We need to educate our daughters about the value of freedom and courage. According to UNESCO, one of the main objectives of all societies is to promote gender equality and the non-discrimination of girls. Broadly speaking, we all agree on this. It is a logical goal in which it is well-worth investing resources, efforts and awareness.
What do I need feet for if I have wings to fly.

-Frida Kahlo-
However, there is a fact that escapes us, a nuance that we often do not perceive and that, almost without us noticing, carves the personalities and thoughts of our girls.
There is one thing that we reinforce on a daily basis: physical appearance. We praise their dresses and their hair, and we remind them every day of the need to be good daughters, sisters, partners, women…
However, under these classic labels, what we actually achieve is our own priorities that reinforce the classic patriarchal system. We promote other areas in daily life, other aspects that allow them to be themselves and do what they want, what their heart dictates.
Let's educate them by giving them wings and enough courage so that they can save themselves at any time.
My daughter will not be afraid of dragons
To give the world mature, free and brave people who know how to set their own paths, there is nothing better than offering adequate strategies so that they can manage their fears and insecurities.
You do not have to be a good girl – being yourself is enough
Be good, stay still, do not talk, dress well, do not be shameless, do not call attention to yourself, do the same as others, do not get out of line… these and other phrases, ideas and mandates have accompanied girls over several generations.
The future belongs to those who believe in the beauty of their dreams.

-Eleanor Roosevelt-
It is clear that we want our daughters to obey us, but rather than educate them in the classic way of pure and simple obedience, we must change the focus to promote their abilities, strengths and values.
A girl's self-esteem is not reinforced just by telling her that she is pretty
You can tell her she is pretty; that's not really the problem. You can tell her every day that she is the most beautiful girl in the world because it is clear that she is. However, do not prioritize this approach exclusively.
When we introduce them, for example, to friends, it is very common for them to say, "How beautiful you are, and what a beautiful dress you are wearing…"
Little by little, she will become so accustomed to the positive reinforcement associated with her physique that she will base her self-esteem solely on that aspect. This is not enough.
To conclude, your daughter is and always will be beautiful, but for you as a mother or a father, it is not the most important thing. What you want is for her to become a woman with her own voice, with her own thoughts and definitive objectives that she can fulfill.
She will be someone free to love and be loved, to conquer any scenario that is within reach. And no, she will not need a prince to save her from anything…